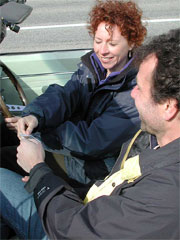 The answer to the today's mobility needs cannot be exclusively the car. On the other hand the needs of fine dispersion pushes public transport to its borders.
The Carlos Ltd works for over 10 years as pioneer in the area of the public privat transports - and opens private transportation capacities by ride-sharing along systems in the public area and among the employees of companies.
Based on the knowledge that ride-sharing systems first of all a social and not a technical challenge, it offers its experience and knowledge to develope made-to-measure solutions for its clients. Carlos Ltd has developped two lines for two different environments:

CARLOS Classic: The column-bound public ride-shring system, complementary to train an bus.

CARLOS Business: The custom-made internal ride-sharing system to improove the employee's mobility.

Both lines profit from a view, which seizes more than technology and logistics. Carlos Ltd accompaigns their customers on the way to efficient and socially integrated ride-sharing systems.